BLUEBERRY CBD VAPE REFILL CARTRIDGE
The BLUEBERRY CBD VAPE REFILL CARTRIDGE is crafted with pure and potent CBD oil extracted from organic hemp farms in Colorado and contain less than .3% THC. We adhere to the highest industry standards in CBD extraction, ensuring a premium product. Throughout the production process, we rigorously test our product three times to guarantee its purity, consistency, and freedom from contaminants. The crystal-clear nature of our formula and its seamless mixing are indicators of its purity. If you ever come across vape juice that appears murky and thick like syrup, it's not safe for consumption.
The Blueberry cbd vape refill cartridge features an indica strain. Our formula is thoughtfully designed to induce a soothing and relaxing effect. Indica strains are known for promoting a sense of calm, potentially helping to reduce anxiety and stress. Many of our customers use our Blueberry CBD vape to unwind before watching a movie or to relax before bedtime. Our CBD vape refill cartridge is safe for daily use, as needed.
Blueberry CBD vape refill cartridge allows our customers to maximize the value of their investment. When your current CBD vape cartridge is running low, simply order one of our CBD vape refill cartridges. Installing them is a breeze – just twist to remove the empty cartridge, insert the new one, and twist it back to secure it in place.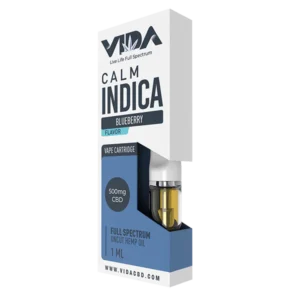 INGREDIENTS
HEMP-DERIVED CBD EXTRACT, NATURAL CBD TERPENES, AND NATURAL FLAVORED TERPENES.
SUGGESTED USE
Hold your vape pen, and twist out the empty cartridge. Replace with the new refill vape cartridge.
IS VAPING RIGHT FOR ME
Whether vaping is right for you or not is a personal choice. We offer many different products to offer different ways to take your CBD daily. We do encourage customers to browse the site and read more about the different products offered. You need to think of the end result you are seeking. Whatever the reason, we offer different CBD products for everyone's personal preference. We do recommend choosing a product that fits in with your lifestyle.
Many of our customers who choose our vape products are smokers. BLUEBERRY CBD VAPE REFILL CARTRIDGE have helped many customers stop smoking cigarettes, and they like that the CBD enters their system quickly when vaping. We do want to remind you that our products are a dietary supplement. None of our products are designed to treat or cure disease or illness. If you are taking prescription medication, we recommend speaking to your physician before taking any CBD products.